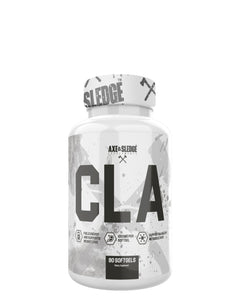 IMPROVE YOUR BODY COMPOSITION WITH CONJUGATED LINOLEIC ACID
CONJUGATED LINOLEIC ACID (CLA) IS AN OMEGA-6 (POLYUNSATURATED) FATTY ACID THAT'S NATURALLY FOUND IN SOME FOODS, SUCH AS BEEF, DAIRY, AND VEGETABLE OILS.

SOME EVIDENCE SUGGESTS THAT SUPPLEMENTING WITH CLA MAY HELP:
REDUCE BODY FAT

IMPROVE INSULIN SENSITIVITY

ENHANCE BLOOD LIPID PROFILES

DECREASE BLOOD SUGAR LEVELS

STIMULATE BONE MINERALIZATION

MODULATE THE IMMUNE SYSTEM

INCREASE LEAN BODY MASS
FURTHERMORE, CLA EXPRESSES CARDIOPROTECTIVE, ANTICANCER AND ANTI-THROMBOGENIC PROPERTIES. MORE RESEARCH IS NEEDED, BUT CLA SEEMS TO EXPRESS ITS EFFECTS BY STIMULATING PEROXISOME PROLIFERATOR-ACTIVATED RECEPTORS (PPAR).

THESE RECEPTORS ARE TRANSCRIPTION FACTORS THAT PLAY AN IMPORTANT ROLE IN THE STORAGE AND BREAKDOWN OF FATTY ACIDS. THROUGH THE INTERACTION WITH PPAR-GAMMA, CLA MAY ASSIST IN THE REDUCTION OF BODY FAT BY DECREASING LIPOGENESIS AND INCREASING LIPOLYSIS, IMPROVE INSULIN SENSITIVITY, AND REDUCE THE PROGRESSION OF SOME CARDIOVASCULAR DISEASES.

ALTHOUGH CLA CAN BE OBTAINED FROM SOME FOOD SOURCES, IT'S CHALLENGING TO CONSUME ENOUGH THROUGH DIET ALONE. FORTUNATELY, AXE & SLEDGE CLA IS A CONVENIENT AND AFFORDABLE WAY TO SUPPLEMENT WITH A HIGH-QUALITY SOURCE OF CONJUGATED LINOLEIC ACID.

IN EVERY SERVING OF AXE & SLEDGE CLA YOU'LL FIND 800 MILLIGRAMS OF CONJUGATED LINOLEIC ACID DERIVED FROM 1000 MILLIGRAMS OF SAFFLOWER OIL. THE AXE & SLEDGE CLA IS GLUTEN-FREE, KETO-FRIENDLY, AND THIRD-PARTY TESTED FOR POTENCY, PURITY, AND SAFETY. WITH 90 CAPSULES IN TOTAL, ONE BOTTLE WILL LAST YOU ANYWHERE FROM 45 TO 90 DAYS, DEPENDING ON YOUR PREFERRED SERVING SIZE.

IN COMBINATION WITH A PROPER DIET AND TRAINING PROGRAM, SUPPLEMENTING WITH AXE & SLEDGE CLA MAY:
INCREASE ENERGY LEVELS

PROMOTE A HEALTHY METABOLIC RATE

SUPPORT FAT LOSS

ASSIST WITH MUSCLE MASS GROWTH
YOU CAN TAKE CLA ON ITS OWN OR STACK IT WITH SOME OF OUR OTHER WEIGHT LOSS SUPPLEMENTS FOR EVEN GREATER RESULTS!