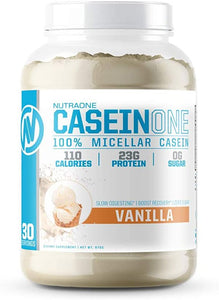 Zero Sugar Protein Powder: Protein doesn't need to have sugar to be delicious. All the nutritional value without the added sugar.
No Amino Spiking: With 23g of pure protein, this protein shake powder has no free form amino acids to increase the protein content.
Slow Digesting: 100% Micellar Casein Protein for a sustained amino acid release. Perfect for taking before bed to ensure your muscles are being fed to grow while you sleep!
100% Micellar Casein: Helps to repair and build lean muscle while preventing muscle breakdown. Casein Protein is most known for being a slow digesting high quality protein powder.
Ingredients You Can Trust: Our protein is made in the USA using Good Manufacturing Practices, so you get a safe, all-natural protein powder.