These delicious croutons are brought to you in collaboration with Lindas Diet Delites (our partner company) and crafted using the ThinSlim Foods Love-the-Taste Bread.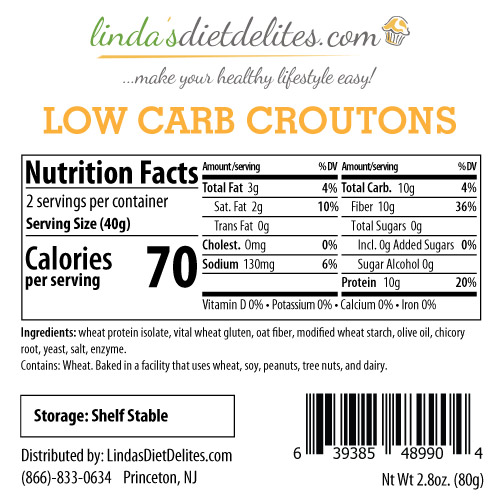 Enjoy these low carb and calorie croutons as a standalone snack or to top your salad.
Ingredients:
wheat protein isolate, vital wheat gluten, oat fiber, modified wheat starch, flaxseed meal, olive oil, chicory root, yeast, salt, apple
Allergens:
Contains wheat. Baked in a facility that uses wheat, soy, peanuts, tree nuts, eggs, and dairy. cider vinegar.
Nutritional Lab Testing:
The nutritional information for the bread used as the base of this product has been lab tested.
Net Carbs:
Net Carbs calculated as Total Carbs - Fiber - Sugar Alcohol (if applicable)