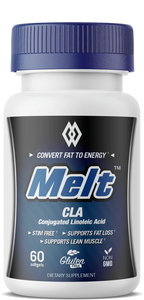 "Are you in need of a stimulant-free fat loss support supplement? Try Musclewerks' Melt – this pure CLA formula is only made from the highest quality CLA there is available.

What is CLA? It is a naturally occurring fatty acid, primarily found in meat and dairy products. CLA is not one of your essential fatty acid, therefore you're not obliged to consume it for your regular diet for optimal health. Nevertheless, many people incorporate it into their supplement regime to support converting fat into fuel aiding people in faster weight loss. CLA also has links towards aiding people retain more lean muscle mass and keep type 2 diabetes under control, this is the kind of diabetes that is related to obesity.

For anyone looking to receive weight loss support from a well credited supplement, in easy to swallow, gel capsules, Musclewerks Melt is for you.
60 gelcaps per bottle 
serving size: 2 gelcaps
total fat: 2g
Conjugated Linoleic Acid (9Z,11E-octadeca-9,11-dienoic acid) 2100mg